Wat is voedsel drogen?
Wat is voedsel drogen?
Drogen is de oudste en eenvoudigste conserveringstechniek die er bestaat. Het wordt tegenwoordig minder vaak toegepast als vroeger, terwijl het één van de gezondste, lekkerste en bij uitstek goedkoopste manier is om groente en fruit te bewaren. Aan het eind van de zomer is er een overvloed aan groente en fruit. Het is heerlijk om deze producten te kunnen bewaren in winter. Bovendien is het de meest effectieve en duurzame manier om met voedsel om te gaan!
De circulatie van hete en droge lucht zorgt ervoor dat het water uit de voedingsmiddelen wordt onttrokken en hierdoor de groei van micro-organismen, zoals schimmels en bacteriën wordt tegen gegaan en enzymatische reacties uitblijven. Hierdoor kan het voedsel veel langer bewaard blijven. Het drogen van voedsel kan op verschillende manier gedaan worden. Dit kan met behulp van zon, vuur een oven of een droogoven.
Het steriliseren van voedsel in een ander proces dan het drogen van voedsel. Micro-organismen worden bij het steriliseren gedood, terwijl bij het drogen van voedsel deze wel blijven bestaan in de vorm van sporen, maar niet kunnen functioneren zonder het toevoegen van water.


Wat kunt u met een droogoven/voedseldroger?
Met een droogoven kunt u op een eenvoudige manier uw voedsel drogen, doordat deze vocht onttrekt. Het proces van een voedseldroger is vele malen efficiënter dan het drogen in de zon of het gebruik maken van een gewone oven. Met een voedseldroger heeft u de ideale luchtvochtigheid en temperatuur voor het perfect drogen van uw groente en fruit, maar ook van vlees vis of kruiden. De droogoven bestaat uit een kast met lades. Dit verschilt per model. De Byzoo droogoven heeft bijvoorbeeld 10 lades en de Excalibur is ook te verkrijgen in 5 lades. U stelt de tijd in hoelang u het voedsel wil drogen en de voedseldroger doet het werk. Deze blaast met behulp van een ventilator de warme lucht door de kast, wat ervoor zorgt dat de producten gedroogd worden. U heeft er verder geen omkijken meer naar.
Een droogoven zorgt ervoor dat de tempertauur niet te hoog wordt, waardoor smaak en voedingswaarden behouden blijven. Tevens zorgt het ervoor dat het voedsel voldoende is gedroogd om bacteriegroei tegen te gaan. Hierdoor kunt u alle producten veel langer bewaren.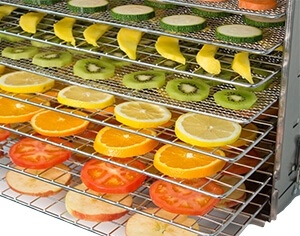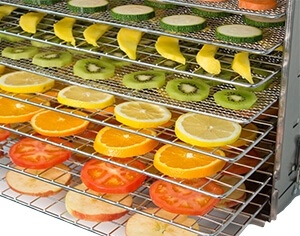 Wat zijn de voordelen van een droogoven:
Een voedseldroger is speciaal gemaakt om voedsel te drogen. Met de juiste luchtstromen zorgt het ervoor dat het proces veel effectiever verloopt.
In een droogoven kunt u meer groente en fruit drogen ten opzicht van een gewone oven. Sommige droogovens hebben wel 10 lades. Daardoor zijn de kosten per gedroogd stuk fruit, groenten, vlees of vis veel lager.
Een droogoven kan lage temperaturen aan, waardoor de voedingsstoffen niet verloren gaan uit het voedsel.
Een voedseldroger verbruikt veel minder energie dan een normale oven.
Voor meer informatie over droogovens, kunt u hier klikken.