Zelf voedsel drogen
Drogen kan in een normale drogen, maar een droogoven is vele malen effectiever.
Er zijn drie aspecten nodig om thuis zelf voedsel te drogen:
Hitte - De hitte moet minstens 60°C zijn om water uit de producten te onttrekken. Dit om te voorkomen dat bacteriën en schimmels kunnen groeien.
Droge lucht - De droge lucht zorgt ervoor dat het vrijgekomen water uit de voeding wordt opgevangen.
Luchtcirculatie - De luchtcirculatie zorgt ervoor dat het water wordt afgevoerd.


Waarom een droogoven/voedseldroger?
Met een droogoven kunt u op een eenvoudige en veilige manier groente en fruit drogen. Een voedseldroger werkt veel efficiënter dan het eindeloos drogen van groente en fruit in de zon, of het gebruik maken van een standaard oven. Hierdoor blijven vitamines, mineralen en antioxidanten veel beter behouden. Het drogen in de zon duurt zo lang, dat de voedingswaarde verloren gaat. De luchtomstandigheden (luchtvochtigheid en temperatuur) in uw standaard oven zijn ook niet optimaal voor groente en fruit. Met een droogoven stelt u van te voren de bijbehorende omstandigheden in voor het groente en fruit en zet de oven aan. U heeft verder geen omkijken naar het droogproces. De voedseldroger levert pure en heerlijke producten. Maak lekkere fruit- en groentechips, gezonde fruit- en groenterepen of geef extra smaak aan uw ontbijt, lunch of avondeten! Klik hier voor lekkere .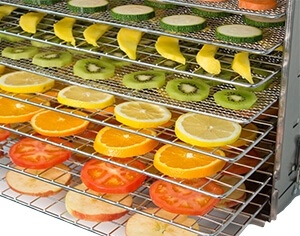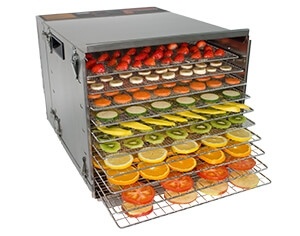 Voordelen van zelf drogen
De voedseldroger kost veel minder in verbruik dan een oven.
Een voedseldroger kost ongeveer 5 cent per uur tov 16 cent gemiddeld per uur voor een oven.
Als u het deurtje van de oven open heeft staan, om vocht af te voeren, zal de oven natuurlijk nog meer verbruiken.
De voedseldroger kan lage temperaturen aan.
Dit is erg belangrijk want bij te hoge temperaturen verliest u de voedingsstoffen uit het voedsel.
De droogoven is speciaal gemaakt om te drogen en is daarom veel effectiever.
In de droogoven kunt u veel volume drogen waardoor de kosten per gedroogd stuk fruit, vis, vlees of groenten heel laag zijn.
Kijk hier voor de geschikte droogovens.