Order & Payment Methods
When you choose to pay via bank transfer you will have to transfer the required amount manually to our Multisafepay account. After you place the order you will receive an email from our payment provider Multisafepay containing payment instructions.
Important
If you choose to pay via bank transfer you will have to make sure to include the payment transaction ID in your payment description. Processing payment via bank transfer usually takes 2 to 3 days. We always aim to ship your order out to you as soon as possible.
The benefits of paying with iDEAL:
iDEAL is safe and easy
iDEAL is supported by the greatest Dutch banks
Use of iDEAL is free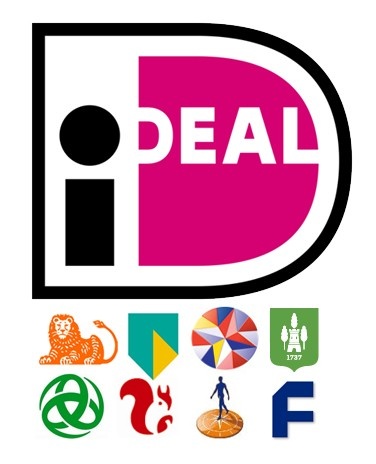 How does iDEAL work?
During payment it's easy to choose the iDEAL-option. You'll be directed to your own bank, where you can fill in the required information and authorize the payment. The money will be transfered directly, and we will be informed about the payment of your order. If the order is placed before 5PM we will send the order the same day.
Ordering with credit card is easy, fast and reliable.





If you choose to pay by credit card, we will ask you to enter the following information:
      Credit card number
      Expiration date
      cvv2-code (validation code)
      Card holder name
Once you have entered this information click on "Submit". Your purchase has now been completed and submitted to our system. You will be redirected to our website where you will find a confirmation of your purchase. In addition, you will receive an email confirming your purchase.
Why is there a validation code?
The validation code (Card Validation Code) are the last three digits on the back of your credit card. We ask you to enter this information to make sure that your card is not used for fraudulent purposes, as this number is not printed anywhere else. The card validation code validates that the person who makes the purchase actually owns the credit card and not a copy of the credit card or just the number of the credit card. Also, the last three digits are not included in the magnetic strip on the card, nor are they part of the credit card number.

When is my credit card charged?
After you have clicked on "Submit", your personal details will be verified. Once your personal details have been approved, your credit card will be charged. Your order is then sent to our system (this takes just a few minutes).

What kind of information do we receive?
We do not save your credit card information; only your own bank has this information. Docdata will verify your card number, verification number and your address during the transaction. We will receive an electronic message confirming your:
    Name
    Address
    Telephone number
    Ordered products
Of course, we will deal with your information in an appropriate manner.

Can I change my purchase once I have ordered?
We cannot charge your credit card more than once. We can therefore only change the total amount of your order. If you change your order to a lower amount than the initial amount, we will refund your credit card with the difference.

Changing your order
Please notify us of your desired changes. Please also include your order number so we can quickly realise your desired changes.