Welke soorten kiemen zijn er?
Welke soorten kiemen zijn er?
Kiemgroenten zijn echte vitaminebommetjes! Elke kiemsoort bevat andere vitamines en mineralen. Hieronder staan enkele soorten kiemen uitgelicht. Naast dat ze allemaal erg gezond en goed voor u zijn, bestaan er wel verschillende soorten kiemgroenten.
Alfalfa kiemen
Dit is veruit de bekendste kiemgroente. Door de neutrale smaak kunt u deze kiemen overal aan toevoegen. Door zijn hoge gehalte proteïne (35%) een aanrader om door uw lunch salade te verwerken of toe te voegen aan uw maaltijd.
Bevat vitamine A, B1, B2, C, D en E.
Bevat mineralen: oa. Calcium, Fosfor, Kalium, Magnesium, IJzer, Zink en alle essentiële aminozuren.
Linzen kiemen
Linzen kiemen zijn lekker licht verteerbaar. Deze kiem zorgt voor het verlagen van de cholesterol en het op peil houden van het insuline-level. Ze zijn lekker in salades en soepen. Deze kiemen zijn ook erg lekker om te stomen!
Bevat vitamine A, B1, B2, B3, B6 en C.
Bevat mineralen: IJzer, Fosfor, Magnesium en Zink.


Mosterd kiemen
De mosterdkiemen hebben een pittige smaak. De kiemen dragen bij aan het immuunsysteem en ondersteunen het reinigen van de lever. Combineer de mosterd kiemen op een toastje met avocado of hummus. De kiemen zijn ook warm te bereiden. Hiervoor hoeft u er alleen een beetje kokend water overheen te gieten en vervolgens mee te bakken met een stukje vlees of wat vis.
Bevat vitamine A, B1, Bv en C.
Bevat mineralen: Calcium, IJzer, Zwavel, Fosfor en Kalium.
Mung bonen (soja)
Deze kiemen zijn familie van de Adzuki kiemen. Deze kiemen worden veel gebruikt in de Aziatische keuken, zoals in goedgevulde soepen. De mungboon draagt ook bij aan uw spijsvertering en verlaging van uw cholesterol & hoge bloeddruk.
Bevat vitamine A, B1, B2, B3, B9, C en E.
Bevat mineralen: Calcium, Fosfor en IJzer.

Radijs kiemen
Voor garnering van diverse gerechten is dit een heerlijk frisse en knapperige toevoeging. De kleur en de zoete, frisse smaak zijn kenmerkend voor deze radijskiemen. De radijskiem stimuleert ook nog eens extra uw eetlust.
Bevat vitamine B1 en C.
Bevat mineralen: Calcium, IJzer en Zink.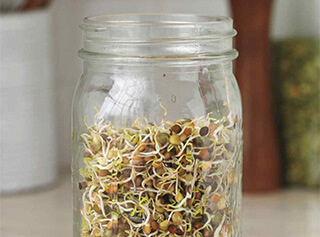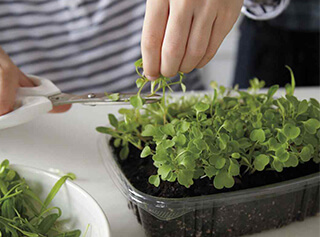 Rucola of raketsla kiemen
Deze pittige kiem kiemt snel! Het heeft een sterke smaakcombinatie van noten en radijs. De kiem vol antioxidanten is het lekkerst rauw op bijvoorbeeld een boterham met hummus of door een salade.
Bevat vitamine C.
Bevat mineralen: Zwavel, Natrium, Kalium, Calcium en Fosfor.

Tuinkers of cresson kiemen
Deze kiem heeft een heerlijke kruidachtige smaak en kan op alles gekweekt worden wat water vasthoudt zoals bijvoorbeeld een stukje keukenpapier of proppen watten. De tuinkers is ideaal om toe te voegen aan salades. Zoals u misschien wel weet is het typisch Nederlands om het op een beschuitje te doen met wat boter en suiker.
Bevat vitamine A, B1, B2, B3, C en E.
Bevat mineralen: Calcium, IJzer, Magnesium en Fosfor.