Horizontaal tegenover Verticaal
Horizontaal tegenover Verticaal
We horen het wel vaker; wat is het verschil tussen een verticale en een horizontale slowjuicer? Hieronder leggen wij het uit.
Het ontwerp
Het eerste dat opvalt, is het ontwerp tussen een verticale en een horizontale slowjuicer. Het gaat om de stand van het wormwiel/ de persschroef (auger in het Engels).

Horizontale Slowjuicer
De verticale slowjuicer neemt minder ruimte in op het aanrecht, vergelijkbaar met een keuken- of koffiemachine. Een horizontale machine is langer en neemt daardoor meer ruimte in beslag, maar daar staat tegenover dat het ontwerp wel lager is.

Horizontale Juicers
Horizontale slowjuicer waren in eerste instantie alleen met de hand aan te draaien. Op deze manier werden tarwegras en zacht fruit met de hand gemalen tot sap. Dit apparaat is nog steeds te krijgen en ideaal voor een survivaltocht of een vakantietrip.
Horizontale Twin gear
Dubbele persschroef
Later kwam de gemotoriseerde horizontale slowjuicer. Deze werkte volgens hetzelfde principe als de handmatige variant en kon door de constante snelheid ook constante kwaliteit van het sap waarborgen. Naarmate de jaren verstreken, werden er steeds meer verbeteringen doorgevoerd in het apparaat. Dit heeft geresulteerd in een veelzijdig en bovendien erg betrouwbare slowjuicer. Zo kan het apparaat naast sap ook babyvoedsel, pastadeeg, pindakaas, ijs en smoothies maken.
De horizontale slowjuicers zijn een stuk beter in het juicen van vezelige groenten (zoals bleekselderij), harde groenten (zoals wortels en bieten) en bladgroenten(tarwegras, spinazie) dan de verticale slowjuicers. Dit komt doordat de horizontale slowjuicers een langere en smallere persschroef hebben, waardoor de perstijd van de producten verlengd wordt. Hierdoor wordt meer sap uit groenten en fruit geperst. Horizontale slowjuicers zijn ook weer onder te verdelen in twee soorten: de single-gear slowjuicers en de twin-gear slowjuicers.
Bekende horizontale slowjuicers zijn:
Angel Juicer 5500/ 7500/ S8500
Byzoo Horizontale Slowjuicer Rhino
Sana by Omega
Omega Juicer
Z-Star Juicer 710
Greenstar Elite
Verticale Juicers
Sinds een aantal jaar is de verticale slowjuicer steeds meer in opkomst. Waarschijnlijk heeft dit te maken met het gepatenteerde ontwerp dat iets eleganter en praktischer overkomt in de moderne keuken. Het voordeel van een verticale slowjuicer is dat het apparaat een stuk minder ruimte inneemt op het aanrecht. Een verticale slowjuicer kan ook zachte en harde groenten juicen, alleen de vezelige groenten gaan wat lastiger. Ook hebben verticale slowjuicers een sapstop of kraantje om het versgeperste sap te verdelen. Door de sapstop is het apparaat ook gemakkelijk schoon te maken. Na afloop kunt u (lauw) water in de vulopening van het apparaat doen, de machine kort laten draaien en het persvat naar de gootsteen brengen om vervolgens de losse onderdelen onder de kraan even nalopen met de bijgeleverde borstel.

Verticale persschroef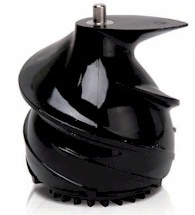 Enkele verticale slowjuicers zijn: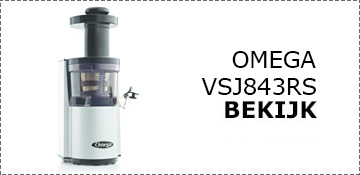 Hurom HH Tweede Generatie Slowjuice Recepten
Philips
Omega VSJ843RS
Hurom HH 2nd Generation
Omega verticale slowjuicer
Tribest Slowstar