Growing wheatgrass yourself
Het kweken van tarwegras kunt u makkelijk zelf doen. Het is een leuke bezigheid en het is een investering in een gezondere levensstijl. Hieronder vindt u de benodigdheden en de handleiding.
Alle producten zijn daarnaast eenvoudig op slowjuice.nl te bestellen. Kijk hier voor handige starterset voor het kweken van tarwegras.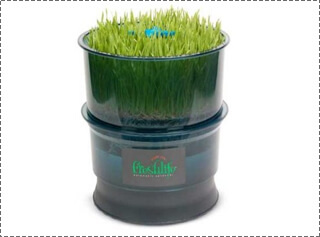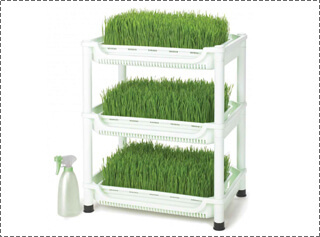 Benodigdheden
Tarwezaad
1 kweektafel of 6 kweekbakjes
Een zeef
Lichte tuinaarde of potaarde met compost. Neem organische aarde, verrijkt met mineralen, dat is het beste. Bij een kweektafel is er ook de optie zonder aarde te kweken.
Een bak of schaal om de tarwe in te weken
Een plantenspuit

Handleiding
Week het tarwezaad 2 tot 4 uren in een schaal met kraan- of gefilterd water.
Gooi een laagje tuinaarde of potgrond met compost in een kweekbak, een laagje van 2 tot 4 cm. Druk de aarde een beetje aan zodat er een gelijkmatige laag ontstaat.
Giet na 2 tot 4 uren het water af en strooi het tarwezaad gelijkmatig over de aarde, zodanig dat er een laagje van één korrel dik ontstaat. De korrels mogen elkaar net raken, zodat er weinig van het laagje aarde zichtbaar is.
Leg nu een plaat of een andere omgekeerde kweekbak op de kweekbak met aarde en tarwezaad zodat de kweek donker staat. Laat de kweekbak met aarde en tarwezaad ongeveer 2 dagen in het donker staan, totdat de tarwezaden kleine kiempjes zijn geworden.
Gedurende de eerste 4 – 5 dagen (ook gedurende de periode dat de kweekbak donker staat) besproeien m.b.v. een plantenspuit.
Na 4 – 5 dagen ziet u dat de worteltjes van het tarwezaad door de aarde geworteld zijn en kunt u het 'matje tarwegras' als een geheel optillen zonder dat de aarde uit elkaar valt, de wortels houden de aarde bij elkaar. U kunt vanaf nu het 'matje tarwegras' bewateren met een gieter door het matje op te tillen en een laagje water onder in de kweekbak te gieten. Giet elke dag een groot glas water in de bak zelf, maar niet zoveel dat er de hele dag een laag water in de kweekbak blijft staan.
Na 7 – 12 dagen zal het tarwegras ongeveer 10 – 16 cm hoog zijn. Vanaf dan kunt u de sprieten oogsten. Makkelijk is om dit met een schaar of een kartelmes te doen, net boven de wortel.
Na het afsnijden of afknippen van het tarwegras verwerkt u het met uw slowjuicer: Tarwegrassap!
Het is ook mogelijk om tarwegras te kweken zonder potgrond. Dit zorgt voor minder geknoei. Hier is een handige starterset voor tarwegras te krijgen, waar geen potgrond voor nodig is.