Smoothies Maken
Zelf smoothies maken is met een normale blender een ingewikkelde klus. U maakt bij het maken van een smoothie namelijk meer vuil dan nodig. Bij de compacte personal blender maakt u minder vuil en hoeft u dus minder schoon te maken. Dat komt omdat u uit de blendbeker drinkt, waardoor u geen extra glas hoeft vuil te maken. U maakt binnen een minuut een heerlijke fruit smoothie met de Personal Blender van Slowjuice.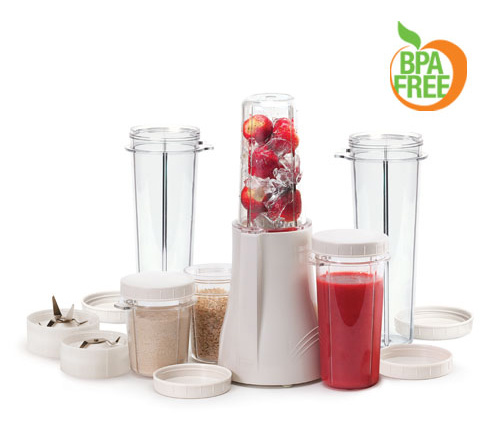 Slowjuice staat voor bewust omgaan met smaak en voedingswaarde en passie voor eten, maar ook voor veiligheid. De messen kunnen alleen aan als de blendbeker volledig is afgesloten. En de Blend- of drinkbeker is van BPA (Bisphenol-A) vrij materiaal.
Een gezond tussendoortje van bijvoorbeeld rood fruit, een glas jus d'orange en een kiwi, even in de blender en klaar is uw smoothie! Smoothies maken is geen tijdrovende ingewikkelde klus. U kiest zelf uw favoriete fruit, voegt daar jus d'orange of spa aan toe en u bent klaar! Voor een verfrissende smoothie doet u er een bolletje ijs of ijsblokjes bij en die mixt u even mee. Voor een stevigere smoothie die u als lunch kunt gebruiken, voegt u een glas melk of yoghurt toe. Ieder kan een eigen smoothie maken met de personal blender. Op deze website vindt u diverse heerlijke recepten. Kijk hiervoor onder het kopje "gezond eten".
Wilt u meer informatie over smoothies maken, blenders of andere producten van Slowjuice, neem dan gerust contact met ons op via E-mail: [email protected] of telefoonnummer: 035-691 02 53.
Bekijkt u ook de andere producten die Slowjuice voor u kan leveren:
Angel juicer | Wheatgrass juicer | Greenstar juicer | Sapcentrifuge kopen | Sapkuur afvallen | Shakes maken | Sapkuur dieet | Babyvoeding maken | Groentesap maken | Smoothies maken