Cheaper somewhere else?
Let us know! Receive an extra 5% discount on your order!
035-2063080
[email protected]
Angel Juicer AG-8500S
|
Free delivery from €50. Ordered before 23:59, delivery the next day*!

Lowest price guarantee. Cheaper elsewhere? 5% discount!

Free returns. 30 days reflection period!
Information
Now including Angel Accessories Pack:
Angel Placemat
Luxury Brush
Glass Jug
Angel Bottle (360ml)
Pusher with silicone ring
What can you juice with the Angel Juicer AG-8500s?
With the Angel Juicer AG-8500 you can make juice from all types of fruit and vegetables, including hard tubers (such as carrots, beets), fibrous vegetables (such as celery) and leafy vegetables (such as wheatgrass, spinach, cabbage leaves). In addition to vegetable, fruit and wheatgrass juice, the Angel juicer also prepares delicious nut butters, tofu and milk from seeds, almonds and (soy) beans. If you can bite the seeds and it doesn't hurt, then you can just put them in the slow juicer.
What kind of juice do you get with the Angel Juicer AG-8500?
The Angel has the most powerful motor of all slow juicers, allowing it to extract the maximum amount of nutrients from the products. This slow juicer knows how to separate the pulp well, so that the juice is practically pulp-free.
How do you clean the Angel Juicer AG-8500?
The Angel is easy to clean. The parts can be disconnected in a few steps. It is important that the strainer is properly cleaned with the scraper and brush supplied. The parts can also be put in the dishwasher. The connection to the clamps holding the press section can get dirty. This can be easily cleaned with a damp cloth or by carefully pouring a glass of water over it (if the device is off).
Why should you choose the Angel Juicer AG-8500?
Excellent reputation - The manufacturer has been working on product development and strict quality control of the Angel juicer for over 25 years, resulting in extremely high durability. The device is made of high-quality stainless steel (SUS-316). Each copy is assembled and checked by hand.
Exceptionally high yield - The Angel juicer squeezes up to 30% more juice and up to 3x the nutrients from fruit and vegetables than other juicers.
Fully extra strong stainless steel - All parts of the Angel juicer are made of stainless steel (stainless steel). Steel provides high durability and is easy to clean. It also gives the juicer a beautiful, luxurious look.
Safe - The Angel juicer has six built-in safety features:
1. Operation only possible when device is fully assembled.
2. Switch on the back prevents accidental switching on via the digital control.
3. Built-in thermostat prevents overheating.
4. Built-in coupling prevents damage to motor when a knife, bell jar or other object ends up in the filling opening.
5. Double protection at switch against electric shock.
6. Insulation between motor and housing to resist shock.
Automatic adjustment of pressing force - The Angel automatically determines the required pressing force by means of smart technology. With stiff fibers, the motor will work harder to squeeze the maximum amount of juice from vegetables or fruit.
Silent motor - The extremely strong motor has enough power to squeeze out whisper-quiet.
Warranty - 10 years on the engine and 3 years on parts
BPA Free - The Angel Juicer AG-8500S is completely BPA free.
The Angel AG-8500S is completely BPA free
More information
Difference between the Angel AG-7500 and the Angel AG-8500S
The Angel 7500 and the Angel 8500 are technically completely the same. The difference is in the stainless steel of the worm gears and the sieve. The Angel AG-7500 slow juicer has a stainless steel 18/8 stainless steel, which is an alloy of 18% chrome and 8% nickel. The Angel AG-8500S slow juicer has a stainless steel 18/12 stainless steel, which is an alloy of 18% chrome and 12% nickel. Inox 18/12 is slightly harder and is used, for example, in surgical instruments.
Our rating:
Testing with the angel juicer was great - we don't often see such excellent results! We tested carrots, apples, oranges, grapes, berries and lettuce. With carrot, the pulp is considerably drier compared to other slow juicers. With apple there is very little pulp and the pulp that remains is very dry again. This machine really extracts all the juice from vegetables as lettuce. Therefore, the price will pay off due to the high return. You will spend a lot less money on fruits and vegetables. You need fewer vegetables or fruit for the same amount of juice. There are few parts to clean, but you need to make good use of the included brush and scraper to clean the strainer. This can take a few minutes due to the large sieve. It is useful to soak the strainer in water overnight. Another advantage of the Angel slowjuicer is the wider 43mm shaft. Most other horizontal slowjuicers have a shaft width of 38mm.
Video's
---
Slowjuice.nl is the official importer of all Angel products: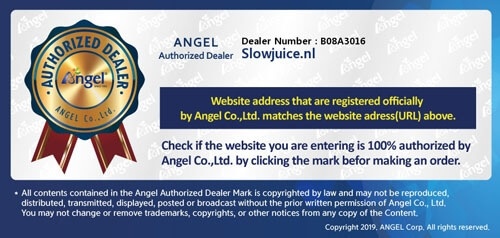 Through this seal you know that you are buying from an authorized Angel dealer. Clicking on the picture will take you to the official Angel Juicer site where you can check the website once again by entering the dealer number (shown in the picture).


Specifications
Product
| | |
| --- | --- |
| Article number: | 8809310840083 |
| EAN: | 8809310840083 |
| SKU: | AG-8500_ |
| Tax: | 21% |
| Weight: | 9500 |
General properties
| | |
| --- | --- |
| Type of Press: | Twin gear |
| Propulsion: | Electric |
| Dimensions (LxWxH): | 49,5 x 19,7 x 26,7 (cm) |
| Pasta maker: | Yes (after buying an optional sieve) |
| Warranty: | 10 years for the engine and 3 year for parts. In case of commercial use, the warranty becomes void. |
| Weight: | |
| BPA-free: | Yes |
| Motor: | single phase |
| Rounds per minute: | 82 |
| Power: | 180 W (2 phase) |
| Can juice Wheatgrass: | Very good |
| Food processor: | |
| Box content: | Basic motor Filler funnel Sieve Wooden pestle Free set of silicone rings (extra) 2x collection container Protective cap Cleaning brush Cleaning knife User manual |
| noise (dB): | 66 dBa |
| Dishwasher proof: | Yes |
| Other specifications: | The Angel 7500 and the Angel 8500 are technically identical. The difference is in the stainless steel of the worm gears and the sieve. |
Reviews
average of 6 review(s)
By
:
c. Poissonnier
Date
:
10/03/2023
super handig en makkelijk te bedienen en schoon te maken
By
:
Marc Rombouts
Date
:
17/01/2023
merkelijk verschil in smaak en natuurlijk scheiding van pulp.
By
:
Anneke de Does
Date
:
14/12/2022
-perst heel veel sap uit de groente; de pulp is heel droog. -vrij makkelijk schoon te maken. -maakt weinig geluid.
voeding komt niet in aanraking met plastic.
By
:
thug
Date
:
25/05/2020
(Geplaatst op 16-08-15). Veel eerder moeten halen wat een pracht machine maximaal rendement weinig afval veel sap stil krachtig in 3min schoongemaakt.
By
:
Esther
Date
:
25/05/2020
(Geplaatst op 02-05-16). Het is mijn eerste slowjuicer dus ik kan niet vergelijken. Wat ik wel kan zeggen is dat ik er heel blij mee ben. Je voelt dat je kwaliteit in handen hebt en het glimmende roestvrij staal ziet er prachtig uit. De motor heeft een laag geluid en ronkt door stapels groenten heen. Dus ik kan 's morgens persen zonder anderen wakker te maken. De pulp die eruit komt is droog. Het bakje dat bedoeld is voor de pulp vind ik onhandig maar is prima te doen. Ik denk dat de opbrengst hoog is omdat een collega met een ander apparaat weinig tot geen sap uit een broccoli krijgt en de Angel perst er wel sap uit. Schoonmaken valt reuze mee. Met water en een borstel is het zo klaar. Wekelijks maak ik een voorraadje verschillende kleuren flesjes sap voor de hele week (gaat de vriezer in) dus ik heb al heel wat liters geperst. Voor mij is de Angel is een aanwinst in de keuken en voor mijn gezondheid.
(Geplaatst op 02-01-16). Een paar weekjes terug deze Juicer besteld, levering was snel wat fijn was. De juicer ziet er prachtig uit, en de kwaliteit lijkt top. Omdat ik de juicer nog maar kort heb kan ik over de duurzaamheid niets zeggen, daarom ook 3 sterren daarvoor. Ik verwacht een machine voor het leven te hebben. De prijs krijgt eveneens drie sterren, omdat ik de juicer in verhouding te duur vind, echter als je het geld ervoor hebt, en die luxepositie had ik, dan is het het geld wel waard. Als je rustig aandoet met juicen dan werkt ie perfect, helemaal bij bladgroente en andere groene groente. Het werkt wel beter om bij veel zacht fruit ook iets tussendoor te gebruiken met wat meer vezels. Tot nog toe is het enige nadeel dat de juicer soms een wat piepend geluid maakt bij bepaald zacht fruit, met name bij peren, dit heeft hoogstwaarschijnlijk met frictie te maken, maar is wel jammer en tegelijkertijd hoort het erbij. Alle slowjuicers piepen en kraken tijdens het persen. Het geluidsniveau is top van deze juicer, de afwerking en looks zijn ook perfect. Ik ben van mening dat dit de beste juicer voor particulier gebruik is die er op dit moment te koop is waar dan ook ter wereld en dat was voor mij ook de reden om de absurd hoge prijs te betalen. Service van slowjuice is perfect in orde tot zover.