Cheaper somewhere else?
Let us know! Receive an extra 5% discount on your order!
+31(0)35-6910253
[email protected]
Angel Juicer 7500
|
Free delivery from €50. Ordered before 23:59, delivery the next day*!

Lowest price guarantee. Cheaper elsewhere? 5% discount!

Free returns. 30 days reflection period!
Information
Now including Angel Accessories Pack:
Angel Placemat
Luxury Brush
Glass Jug
Angel Bottle (360ml)
Pusher with silicone ring
What can you juice with the Angel Juicer 7500?
With the Angel Juicer 7500 you can make juice from all types of fruit and vegetables, including hard tubers (such as carrots, beets), fibrous vegetables (such as celery) and leafy vegetables (such as wheatgrass, spinach, cabbage leaves). In addition to vegetable, fruit and wheatgrass juice, the Angel juicer also prepares delicious nut butters, tofu and milk from seeds, almonds and (soy) beans. If you can bite the seeds and it doesn't hurt, then you can just put them in the slow juicer.
What kind of juice do you get with the Angel Juicer 7500?
The Angel has the most powerful motor of all slow juicers, allowing it to extract the maximum amount of nutrients from the products. This slow juicer knows how to separate the pulp well, so that the juice is practically pulp-free.
How do you clean the Angel Juicer 7500?
The Angel is easy to clean. In a few steps, the parts can be disconnected and then they can simply be washed in the dishwasher.
Why should you choose the Angel Juicer 7500?
Excellent reputation - The manufacturer has been working on product development and strict quality control of the Angel juicer for over 25 years, resulting in extremely high durability. The device is made of high-quality stainless steel (SUS-304). Each copy is assembled and checked by hand.
Exceptionally high yield - The Angel juicer squeezes up to 30% more juice and up to 3x the nutrients from fruit and vegetables than other juicers.
Fully stainless steel - All parts of the Angel juicer are made of stainless steel (SS). Steel provides high durability and is easy to clean. It also gives the juicer a beautiful, luxurious look.
Safe - The Angel juicer has six built-in safety features:
1. Operation only possible when device is fully assembled.
2. Switch on the back prevents accidental switching on via the digital control.
3. Built-in thermostat prevents overheating.
4. Built-in coupling prevents damage to motor when a knife, bell jar or other object ends up in the filling opening.
5. Double protection at switch against electric shock.
6. Insulation between motor and housing to resist shock.
Automatic adjustment of pressing force - The Angel automatically determines the required pressing force by means of smart technology. With stiff fibers, the motor will work harder to squeeze the maximum amount of juice from vegetables or fruit.
Silent motor - The extremely strong motor has enough power to squeeze out whisper-quiet.
Warranty - 10 year warranty on the engine and 3 years on parts.
BPA Free - The Angel Juicer 7500 is completely BPA free.
The Angel AG-7500 is completely BPA free.
More information
Difference between the Angel 7500 and the Angel 5500
The 7500 and the 5500 both have a security / sensor for when the opening suddenly has too much to process. This will stop the engine to prevent damage. With the Angel 5500 you have to manually press the reverse button so that the wheels turn the other way and the blockage is cleared. With the Angel 7500 this reverse function is automatic. That is of course more user-friendly.
Our rating:
Testing with the angel juicer was great - we don't often see such excellent results! We tested carrots, apples, oranges, grapes, berries and lettuce. With carrot, the pulp is considerably drier compared to other slow juicers. With apple there is very little pulp and the pulp that remains is very dry again. This machine really extracts all the juice from vegetables as lettuce. Therefore, the price will pay off due to the high return. You will spend a lot less money on fruits and vegetables. You need fewer vegetables or fruit for the same amount of juice. There are few parts to clean, but you need to make good use of the included brush and scraper to clean the strainer. This can take a few minutes due to the large sieve. It is useful to soak the strainer in water overnight. Another advantage of the Angel slowjuicer is the wider 43mm shaft. Most other horizontal slowjuicers have a shaft width of 38mm.
Video's
---
Slowjuice.nl is the official importer of all Angel products: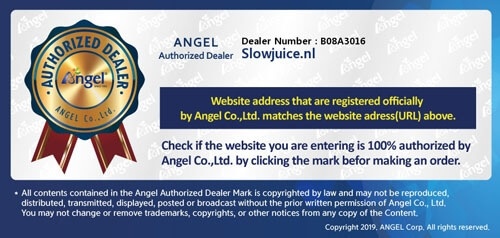 Through this seal you know that you are buying from an authorized Angel dealer. Clicking on the picture will take you to the official Angel Juicer site where you can check the website once again by entering the dealer number (shown in the picture).
Specifications
Product
| | |
| --- | --- |
| Article number: | 8809310840038 |
| EAN: | 8809310840038 |
| SKU: | AG-7500_ |
| Tax: | 21% |
| Weight: | 9500 |
General properties
| | |
| --- | --- |
| Type of Press: | Twin gear |
| Propulsion: | Electric |
| Dimensions (LxWxH): | 49,5 x 19,7 x 26,7 (cm) |
| Pasta maker: | Yes (after buying an optional sieve) |
| Warranty: | 10 years for the engine and 3 year for parts. In case of commercial use, the warranty becomes void. |
| Weight: | 9,5 kg |
| BPA-free: | Yes |
| Motor: | single phase function |
| Rounds per minute: | 82 |
| Power: | 180 W (2 phase) |
| Can juice Wheatgrass: | Very good |
| Food processor: | Yes |
| Box content: | Basic motor Filler funnel Sieve Wooden pestle Free set of silicone rings (extra) 2x collection container Protective cap Cleaning brush Cleaning knife User manual |
| noise (dB): | 66 dBa |
| Dishwasher proof: | Yes |
| Other specifications: | Voltage: 230 V Voltage: 50 Hz Cable length: 140 cm, earthed plug Entry shaft: 4.32 cm diameter |
Reviews
average of 10 review(s)
By
:
Anita
Date
:
09/03/2023
Geweldig sap komt uit deze slowjuicer.
Heel fijn en puur sap

Grote opbrengst van groente en fruit

Makkelijk schoonmaken

Spinazie, bleekselderij wordt makkelijk verwerkt

Amandelmelk maken
Duur

Zware machine

Extra onderdelen aanschaffen, geeft hoge kosten
By
:
Leen
Date
:
28/02/2023
Na bijna één jaar twijfelen, opzoeken, filmkes kijken, wikken en wegen toch mezelf de Angel Juicer 7500 kado gedaan! Prijskaartje was de laatste drempel waar ik over moest. Whaw dat sap! It tastes like an ANGEL is peeing on my tongue. Zelfs iemand die niet zot is van rauwe groenten vindt het sap dat de juicer produceert gegarandeerd lekker! Hoge sapopbrengst en zeer droge pulp! Niet alle fruit is een even groot succes met de fijne zeef die standaard meegeleverd wordt. Het lukt wel maar is wat lastiger. Maar dat wist ik al na het voorafgaande opzoekwerk. Voor zo een prijzig toestel zouden de fijne én grove zeef standaard bij de machine moeten zitten. Gelijkertijd met de Angel de dichte zeef voor pindakaas besteld want zot van notenpasta. Notenpasta gemaakt van een zakje gemengde noten. Noten eerst 5 seconden gehakt in een hakmolen voordat ik ze in de Angel deed kwestie van mijn engel niet teveel te belasten met dikke harde noten :-) Smeuïge notenpasta als resultaat! Slowjuice.nl snelle levering naar België. Donderdag rond 18u besteld. Zaterdagochtend 9u geleverd!
By
:
Marieke
Date
:
05/02/2023
Werkt prima, vooral om bleekselderij in te doen. Is wel echt een slowjuicer dus als het niet zo goed door loopt die stok erin laten zitten en dan is het zo gezakt. Fruit is niet zo'n succes, echt meer voor groente of daar de speciale zeef voor kopen. Schoonmaken gaat steeds sneller, had de borstel van de greenstar erbij gekocht en is een fijne aanwinst. Ik doe hem 2x per week in de vaatwasser. Er zit een korte beschrijving bij hoe je makkelijk het huis kunt verwijderen van de boren af, dit werkt inderdaad erg makkelijk.
By
:
Mick
Date
:
16/07/2021
Na 5 jaar mijn "oude" Hurom ingeruild voor de Angel 7500. (Omdat ik elke dag juice.) Op zich was ik tevreden over de Hurom machine. Droge pulp en veel sap. Maar de Angel is qua smaak echt next level ! Pulp is te vergelijken met de Hurom en de Hurom is iets omslachtiger met schoon maken. Met de Angel juicer is het easy peasy! Smaken groente en/of fruit sappen zijn echt veel zachter en romiger. Het is een investering maar worth every penny! En verdient zich met de jaren terug…. Al met al echt de Rolls Royce onder de slowjuicers.
By
:
Sven van der Horst
Date
:
02/06/2021
Al ruim een half jaar gebruik ik de Angel juicer zeer regelmatig en ben meer dan tevreden. Het is een investering maar ten opzichte van andere slowjuicers is de Angel erg vriendelijk in het gebruik en eenvoudig schoon te maken. De sap opbrengst is hoog en het apparaat verpulpte de ingrediënten sneller door de twee roterende schroefpersen.
By
:
Barbara
Date
:
06/08/2020
Zoals de wortel smaakt zo smaakt ook het sap als deze geperst is met de Angel. Heb de Angel nu 1 jaar en heb net de extra set erbij gekocht (dichte zeef en de gene met grotere gaten) geen betere investering voor mijn gezondheid. Geen Astma medicatie meer nodig! #blij
By
:
Peter
Date
:
25/05/2020
(Geplaatst op 06-06-19). Ik heb sinds kort de Angel 8500. Uiterst tevreden met deze machine. Top kwaliteit machine en dus ook van het geperste SAP. Het is inderdaad een investering. Echter, het apparaat is niet duur wanneer je je bedenkt dat vergeleken met andere machines de opbrengst en kwaliteit van het SAP alles overtreft. Meer sap qua opbrengst maar belangrijker nog: alle vitaminen en nutriënten in bijvoorbeeld de cellen van groente en fruit zijn eruit. Daarom hoef je je niet schuldig te voelen wanneer je de pulp weggooit:: er zit niets van waarde meer in (los van vezels mocht je daar iets mee willen doen). De smaak van het SAP is ook onovertroffen, romig en zeer sterk. Wanneer je meer wilt investeren in jezelf en gezin bijvoorbeeld dan is dit een geweldige keuze. Spaar even door en maak de keuze voor het allerbeste: het betaald zich terug!
By
:
Petra
Date
:
25/05/2020
(Geplaatst op 10-12-17). Je hebt een angel in huis!
By
:
Paul
Date
:
25/05/2020
(Geplaatst op 14-09-14). De angel 7500 is absoluut de moeite waard. Geweldig rendement. Super stabiel en geweldig veel resultaat.
(Geplaatst op 28-12-13). Vandaag werd de Angel 7500 bezorgd. Ik kom tot de conclusie dat ik mezelf een schitterend kado heb gedaan. Al jaren nam ik genoegen met een sapcentrifuge, wetende dat de kwaliteit van het sap aanzienlijk minder was dan met een slowjuicer bereikt zou kunnen worden. Maar goed, inmiddels maak ik ruim 2 jaar groentesappen en fruitsappen en ik ben van plan dat nog jaren voort te zetten. Om die reden besloot ik gewoon maar meteen de beste slowjuicer in huis te halen in de hoop daar een goed deel van mijn leven mee te kunnen doen. Die hoop werd alleen maar bevestigd toen ik de verpakking open maakte. Wat een degelijke machine. Zwaar, mooi, robuust en..wonderbaarlijk stil! Natuurlijk kan ik nog niet veel zeggen over duurzaamheid, maar gezien alle positieve reviews verwacht ik een apparaat in huis te hebben gehaald waarmee ik zeker 15 jaar mijn gang kan gaan. Opvallend vindt ik dat de smaak van het (groente-) sap veel donkerder en sterker van smaak is. de nasmaak blijft nog een half uur aanwezig (boerenkool, spinazie, komkommer, groene paprika). Het afwassen vond ik erg snel en makkelijk gaan. Meteen de eerste keer binnen drie minuten klaar, een verademing vergeleken met mijn sapcentrifuge. Ik zou iedereen met de (luxe-) mogelijkheid aanraden om bij overweging van de aanschaf van een slowjuicer deze machine aan te schaffen. Je haalt echt veel sap uit je groente en fruit (pulpresten zijn nagenoeg droog!) en de bouwkwaliteit is werkelijk fantastisch!