Cheaper somewhere else?
Let us know! Receive an extra 5% discount on your order!
035-2063080
[email protected]
Angel Juicer AG-5500
|
Free delivery from €50. Ordered before 23:59, delivery the next day*!

Lowest price guarantee. Cheaper elsewhere? 5% discount!

Free returns. 30 days reflection period!
Information
Now including Angel Accessories Pack:
Angel Placemat
Luxury Brush
Glass Jug
Angel Bottle (360ml)
Pusher with silicone ring
What can you juice with the Angel Juicer AG-5500?
With the Angel Juicer AG-5500, you can juice all types of fruit and vegetables, including hard tubers (such as carrots, beets), fibrous vegetables (such as celery) and leafy vegetables (such as wheatgrass, spinach, cabbage leaves). In addition to vegetable, fruit and wheatgrass juice, the Angel juicer also prepares delicious nut butters, tofu and milk from seeds, almonds and (soy) beans.
What kind of juice do you get with the Angel Juicer AG-5500?
The Angel has the most powerful motor of all slow juicers, allowing it to extract the maximum amount of nutrients from the products. This slow juicer knows how to separate the pulp well, so that the juice is practically pulp-free.
How do you clean the Angel Juicer AG-5500?
The Angel is easy to clean. The parts can be disconnected in a few steps and then they can simply be cleaned in the dishwasher.
Why should you choose the Angel Juicer AG-5500?
Excellent reputation - The manufacturer has been working on product development and strict quality control of the Angel juicer for over 25 years, resulting in extremely high durability. The device is made of high-quality stainless steel (SUS-304). Each copy is assembled and checked by hand.
Exceptionally high yield - The Angel juicer squeezes up to 30% more juice and up to 3 times more nutrients from fruit and vegetables than juice extractors.
Fully stainless steel - All parts of the Angel juicer are made of stainless steel (SS). Steel provides high durability and is easy to clean. It also gives the juicer a beautiful, luxurious look.
Safe - The Angel slow juicer has six built-in safety features:
1. Operation only possible when device is fully assembled.
2. Switch on the back prevents accidental switching on via the digital control.
3. Built-in thermostat prevents overheating.
4. Built-in coupling prevents damage to motor when a knife, bell jar or other object ends up in the filling opening.
5. Double protection at switch against electric shock.
6. Insulation between motor and housing to resist shock.
Automatic adjustment of pressing force - The Angel automatically determines the required pressing force by means of smart technology. With stiff fibers, the motor will work harder to squeeze the maximum amount of juice from the vegetables or fruit.
Silent motor - The extremely strong motor has enough power to squeeze out whisper-quiet.
Warranty - 10 year engine and 3-year parts warranty.
BPA Free - The Angel Juicer AG-5500 is completely BPA free.
The Angel AG-5500 is completely BPA free
More information
Difference between the Angel AG-5500 and the Angel AG-7500
The Angel 5500 and the Angel 7500 both have a safety / sensor for when the filling opening suddenly has too much to process. This will stop the engine to prevent damage. With the AG-5500, you must then manually press the reverse button so that the wheels turn the other way and the blockage is cleared. With the AG-7500 this reverse function is automatic. That is of course more user-friendly.
Our rating
Testing with the Angel juicer was great - we don't often see such excellent results! We have tested: carrots, apples, oranges, grapes, berries and lettuce. With carrot, the pulp is considerably drier compared to other slow juicers. With apple there is very little pulp and the pulp that remains is very dry again. This machine really extracts all the juice from vegetables as lettuce. Therefore, the price will pay off due to the high return, as you will spend much less money on fruits and vegetables. You need fewer vegetables or fruit for the same amount of juice. There are few parts to clean, but you need to make good use of the included brush and scraper to clean the strainer. This can take a few minutes due to the large sieve. It is useful to soak the sieve in water overnight. Another advantage of the Angel slowjuicer is the wider 43mm shaft. Most other horizontal slowjuicers have a shaft width of 38mm.
Video's
---
Slowjuice.nl is the official importer of all Angel products: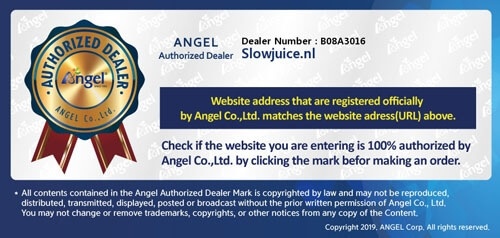 Through this seal you know that you are buying from an authorized Angel dealer. Clicking on the picture will take you to the official Angel Juicer site where you can check the website once again by entering the dealer number (shown in the picture).
Specifications
Product
| | |
| --- | --- |
| Article number: | 8809310840014 |
| EAN: | 8809310840014 |
| SKU: | AG-5500_ |
| Tax: | 21% |
| Weight: | 9500 |
General properties
| | |
| --- | --- |
| Type of Press: | Twin gear |
| Propulsion: | Electric |
| Dimensions (LxWxH): | 49,5 x 19,7 x 26,7 (cm) |
| Pasta maker: | Yes (after buying an optional sieve) |
| Warranty: | 10 years for the engine and 3 year for parts. In case of commercial use, the warranty becomes void. |
| Weight: | 9,5 kg |
| BPA-free: | Yes |
| Motor: | single phase function |
| Rounds per minute: | 82 |
| Power: | 180 W (2 phase) |
| Can juice Wheatgrass: | Very good |
| Food processor: | Yes |
| Box content: | Basic motor Filler funnel Sieve Wooden pestle Free set of silicone rings (extra) 2x collection container Protective cap Cleaning brush Cleaning knife User manual |
| noise (dB): | 66 dBa |
| Dishwasher proof: | Yes |
| Other specifications: | Voltage: 230 V Voltage: 50 Hz Cable length: 140 cm, earthed plug Entry shaft: 4.32 cm diameter Difference between Angel AG-7500 and Angel AG-5500: The AG-7500 and the AG-5500 both have a safety device/sensor if the filling shaft suddenly overfills. |
Reviews
average of 5 review(s)
By
:
Raymond
Date
:
25/05/2020
(Geplaatst op 26-11-13). Na een half jaartje slow juicen kan ik melden dat groente sappen persen voor deze krachtpatser geen probleem is. Snel, veel opbrengst en de vezels zijn droog. Voor fruit is het helaas een ander verhaal. De standaard meegeleverde zeef is waarschijnlijk te fijn en met vruchten als appel, sinaasappel of ananas ontstaan problemen en de machine verstopt, Ook wanneer er tussentijds vezelrijker materiaal (als bv wortel of de vezels die in de opvangbak terecht komen) worden toegevoegd. De vezels zijn vochtig en er zit blijkbaar niks anders op dan een grovere zeef te kopen voor € 180....... Voorlopig pers ik sinaasappels sneller uit in mijn persmachine van de Blokker van € 14,95.
By
:
Anne
Date
:
25/05/2020
(Geplaatst op 04-01-13). Na lang wikken en wegen heb ik afgelopen december mijn 'oude' slowjuicer (een Matstone) vervangen door een Angel Juicer AG-5500. Ik vond het een enorme investering, maar de verhalen kloppen: je haalt met dit prachtige apparaat gewoon het beste en meeste sap uit groente en fruit. Dus is het naar mijn mening de investering waard. Ik pers met gemak iedere dag een liter sap en maak met het apparaat met hetzelfde gemak schoon. En niet te vergeten: mensen van Slowjuice, bedankt voor de snelle en goede service!
By
:
Petra
Date
:
25/05/2020
(Geplaatst op 06-05-15). Ik wilde al heel lang een Angel maar nu heb ik er dan ook eindelijk een. Het is een investering maar dan heb je ook wat. Geen slowjuicer zo als deze. Heerlijk romig sap met de hoogste opbrengst. Het is iedere keer een feestje.
By
:
Gerry Besseling
Date
:
25/05/2020
(Geplaatst op 12-05-15). Hallo slowjuice, mijn vrouw en ik zijn fan van de Angel Juicer. Ik pers iedere ochtend een groente sap in combinatie met een appeltje, sinaasappeltje, citroen of stukje gember. Na twee weken voelde ik me een stuk fitter en scherper. Het sap is erg lekker en binnen 5 minuten heb je twee volle glazen sap geperst. Mijn vrouw en ik zijn er erg blij mee. Het is een grote investering, maar is het dubbel en dwars waard.
By
:
Elisabeth
Date
:
25/05/2020
(Geplaatst op 06-06-19). Ik heb een tijd lang een slowjuicer van Byzoo gehad. Tot vrienden van ons kwamen logeren en we er sap mee maakten. Ze wisten niet wat ze zagen in de hoeveelheid pulp die overbleef, ik moest er ook met een mes in porren om het sap uit de kan te krijgen, het liep er niet goed meer uit. Nu moet ik er wel bij zeggen dat ik het apparaat zeer intensief gebruikt heb, maar ik dacht toch dat dat wel bij alle slowjuicers zo was. Tot zij dus langskwamen en me vertelden dat dat absoluut niet het geval was. Zij hadden zelf een slowjuicer van Hurom. Toen ik aan het zoeken ging wilde ik ook graag dan echt een goede hebben, het liefst zonder plastic en een die tijden mee kan gaan... Deze slowjuicer is echt een verademing en ik kan alleen maar zeggen dat ik het een feest vind om ermee aan de slag te zijn. Je kunt beter iets meer geld investeren in een goed apparaat. Het betaald zichzelf echt terug, want ik haal nu veel en veel meer sap uit mijn juicer. Ik heb het getest. Met de Byzoo had ik met 500 gram wortelen precies 100 ml sap en een hele berg natte pulp. Met de Angel had ik nagenoeg 400 ml sap met dezelfde hoeveelheid wortelen. Dan brengt het apparaat vanzelf zoveel meer opbrengst dat je je geld wel terug verdient. Ik heb de Byzoo elke dag gebruikt, soms meerdere keren, maar dit verschil is wel heeeel groot... Ook smaakt het sap intenser. Naar mijn gevoel haalt de Angel er veel meer uit...